Cobard SL is a medicine used to relieve pain caused by nerve damage (neuropathic pain) due to diabetes, shingles (herpes zoster infection), spinal cord injury, or other conditions. It is also used to treat widespread muscle pain and stiffness in people with fibromyalgia.
Cobard SL belongs to the anti-epileptic group of medicines and can also be used to treat certain types of seizures (fits) in combination with other medicines. Additionally, it may also be prescribed to treat the symptoms of anxiety disorder if other medicines are not suitable.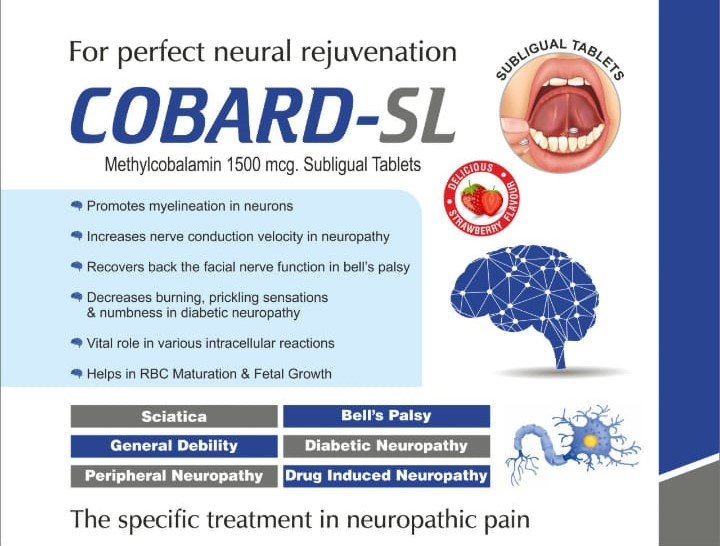 You can take Cobard SL with, but it is important to take this spray at the same time each day to get the most benefit. The exact dose and duration of treatment will depend on your condition and how you respond to it. Your doctor will probably start this medicine at a low dose and increase it gradually. It may take a few weeks for the medicine to work properly. Follow your doctor's instructions and continue taking it regularly until your doctor advises you to stop. Do not miss any dose, otherwise, your condition may worsen.
Cobard SL is used to treat long-lasting (chronic) pain caused by nerve damage due to diabetes, shingles, or spinal cord injury. It reduces pain and its associated symptoms such as mood changes, sleep problems, and tiredness. It is thought to work by interfering with pain signals that travel through the damaged nerves and the brain. Taking this medicine regularly will improve your physical and social functioning and overall quality of life. It takes a few weeks to work so you need to take it regularly even if you feel it is not doing any good. Once your symptoms have gone you should still keep taking the medicine until your doctor advises you to stop.