Dear Dr. regards, We take immense pleasure in introducing you to a ROYAL PAIN KILLER  Fluprest P tab which is going to  fill all the gaps of conventionally used painkillers.It is the only brand manufactured in betcyclodetrine base & is made in WHO-GMP, USFDA Approved manufacturing plants.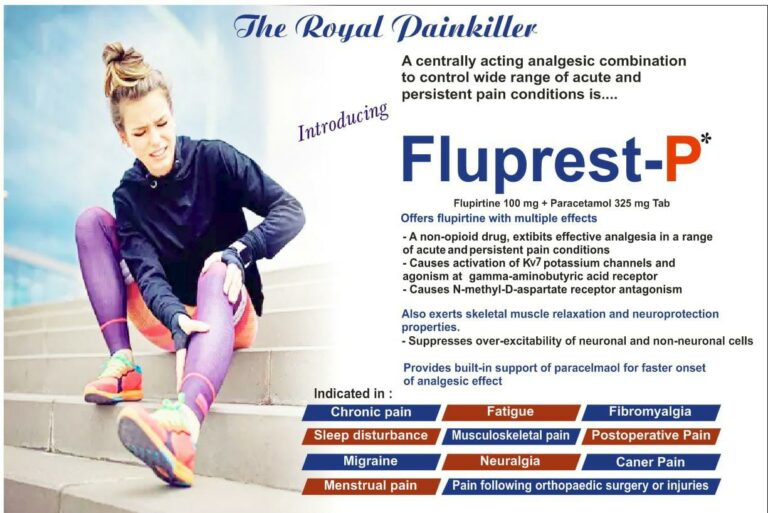 It is a combination of two medicines:(Flupirtine + Paracetamol) which relieves pain. Flupirtine is an analgesic (pain reliever)which is a non opioid,non NSAID, non Steroid, Non Cox 2 inhibitor which belongs to altogether a different class of centrally acting painkiller which works by producing its analgesic action through blockade of glutamate N-methyl-D-aspartate receptor & there by it stops the transmission of pain signals to the brain to lower pain perception. Paracetamol is an analgesic (pain reliever) and an anti-pyretic which works by blocking the release of certain chemical messengers that cause fever and pain..
 . .
Fluprest P tab is used in the treatment of acute and chronic pain. joint pains, dysmenorrhea (period pain), postoperative pain, toothache after dental extraction, and myalgia (muscle pain), fibromyalgia, neuromuscular pain,pain induced by structural disorders, chronic low back pain, fracture pain, cancer pain, sleep disorders & other Chronic pain conditions..
Fluprest P tab is largely found safe in short & long term usage & especially found much safer in CKD. Safety of FLUPREST P is not established in pregnant women & brest feeding mothers because no sufficient data are available on this like all other medicines.
In Bacterial infections
.
It is recommended for short term & long term usage & is recommended to be repeted every after 8 hours especially in intial stage of treatment,thereafter dasage can be reduced to twice or once in a day & according to sevearity & condition of complain of pain by the patient.onset of action starts little late than conventionally used painkillers (roughly 24-36 hours after starting the treatment)after onset of action painkilling efficacy of FLUPREST P TAB is well maintained.
…